Menu Plan Monday: 8/11/2014-8/17/2014
I am later posting this, but here goes…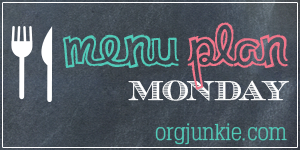 Wednesday: Dinner: Skinny Deep Dish Taco Pizza (Serves 6) WWPP=8
Thursday: Spice Rubbed Chicken Breasts (using the spice rub HERE; her Lazy Lasagna Chili is really good, too!), Maple Dill Carrots (Serves 4) WWPP=0
Friday: (breakfast) ???
(lunch) HG's BLT-rific Mac 'n Cheese (Serves 4) WWPP=6
(dinner) Leftovers PLUS I need to make desserts for a concert we're heading up tomorrow night!
Favorite Cheesecake Squares (Serves 16) WWPP=6
Mudslide Cookies (Serves 30) WWPP=4 (or Serves 48/WWPP=2)
Chocolate Chip Butter Cake (Serves 16) WWPP=2
Saturday: (breakfast) Sunrise Smoothie (Serves 2) WWPP=4
(lunch) Not sure, as we'll likely be at the church all day in preparation for the concert…
(dinner) We're having a concert at church followed by a spaghetti dinner & desserts!
Sunday: (breakfast) Sausage Breakfast Skillet (Serves 2) WWPP=5
(lunch) ???
(dinner)  ???
Hope you all have a great week!