Pin It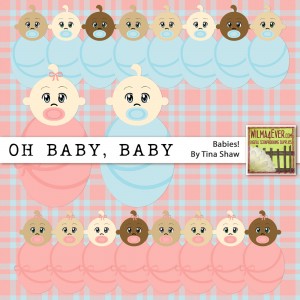 This month's blog train at Pixel Scrapper has a fantastic color palette for babies!  You can find all the participants HERE!  You can download my free mini kit at any one of the links below…file size is approximately 1.93 MB and contains 16 300dpi .png elements..babies in both blue and pink, with varying skin tones (pulled from the beiges and browns in the color palette) and differing eye colors (green, blue and brown).

The full kit can be purchased in my store over at Wilma4Ever.  Here's a peek at the items in the kit…it is huge – 16 .zip files! Only $3.50 for the entire kit!  And it's not just for baby themes, either!  Click images for larger view.
Please don't forget to leave some love for the designers for all their hard work!  And if you use their products, please link back to show them how much you love it and use it, too!